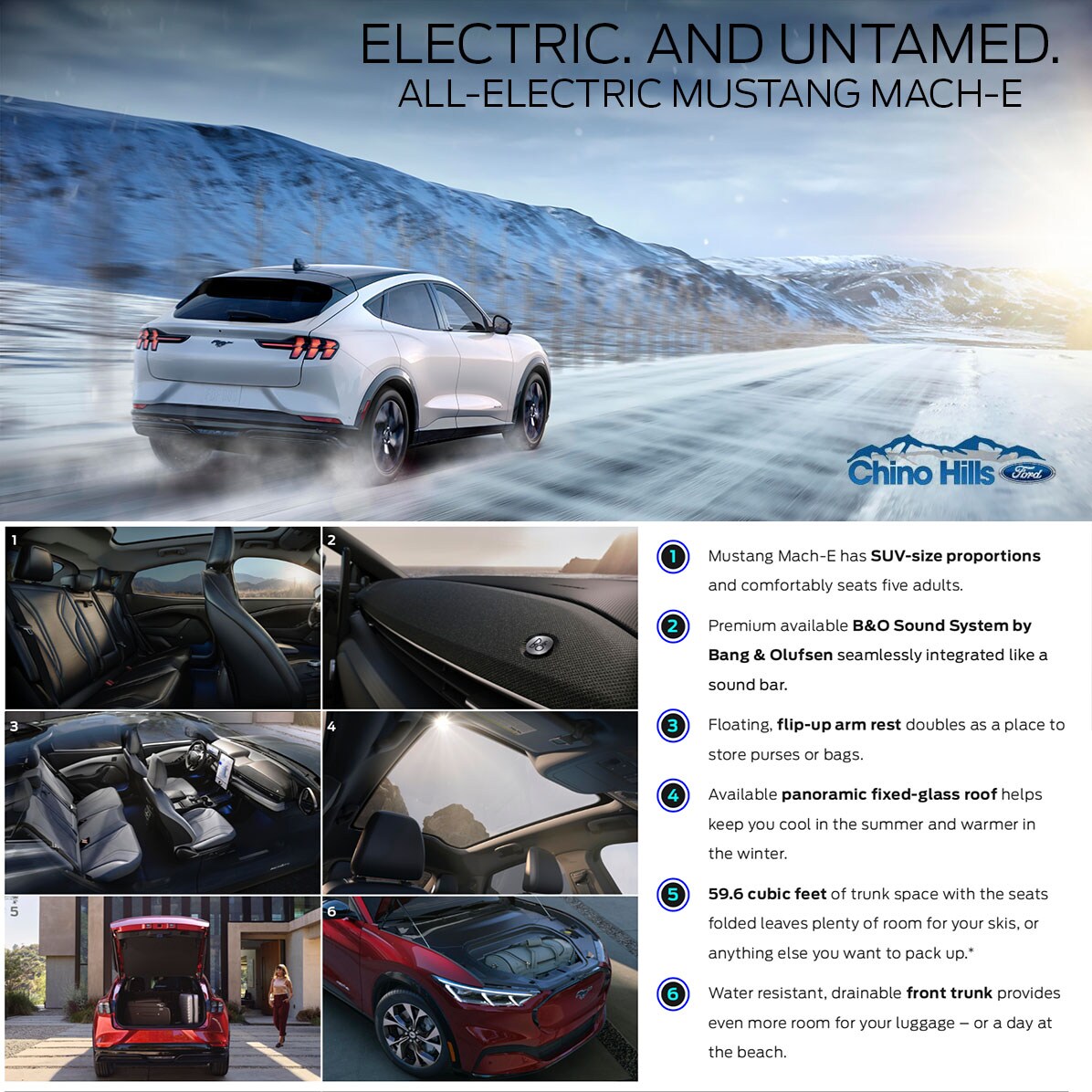 Chino Hills Ford is excited to welcome the newest member to the Mustang family: the 2021 Ford Mustang Mach-E!
Launching in late 2020, the all-electric Mustang Mach-E will be available in several variations, including a limited quantity First Edition. A special GT Performance Edition will also be available starting in Spring 2021. Customers can now reserve their first spot in line for the Mustang Mach-E by making a $500 refundable reservation deposit.
Performance gives new meaning to the word 'electrifying'
Mustang Mach-E delivers three unique drive experiences - Whisper, Engage and Unbridled - each offering finely tuned driving dynamics packaged with a distinct sensory experience. Features include custom-designed vehicle responsiveness such as sportier steering controls, ambient lighting, sounds tuned for an authentic all-electric experience, and dynamic cluster animations that are tied to driving behavior.
Seamless technology that easily adapts to your lifestyle
Making its debut in the Mach-E is the next-generation SYNC communications and entertainment system, a sleek and modern interface that uses machine learning to quickly learn drivers' preferences and gets even better over time thanks to advanced over-the-air updates. Next-generation SYNC's 15.5-inch screen and simple interface ditches complicated menus, making it easier to access features with touch, swipe and pinch controls that every smartphone owner will be comfortable using.
Inside the Mach-E: A floating world makes you feel light and in command
To truly take advantage of the extra space provided by electrification, Ford designers worked extensively with customers to understand how they would prefer to use the interior of their vehicles. Designed with SUV-size proportions to seat five adults comfortably, the Mach-E leaves plenty of space for friends, kids and cargo.
In addition to the exterior front trunk, the rear trunk offers 29 cubic feet of space. With the rear seats down, the Mach-E boasts 59.6 cubic feet of space - more than enough room for luggage, camping gear or whatever else you may want to move around.
Everywhere inside, the Mach-E represents a fusion of sleek, modern design and smart functionality. Premium available Bang & Olufsen speakers are seamlessly integrated across the front, floating above the air vents like a sound bar. A floating flip-up armrest doubles as a place to store purses or bags.
Traditional Mustang design cues like the double-cowl instrument panel round out the interior. Even the available panoramic fixed-glass roof has a secret - a special glass coating with infrared protection helps the interior stay cooler in the summer and warmer in the winter. In addition, an inner layer between the glass helps protect against UV rays.
Finally, getting in and starting the vehicle is easy and effortless with Phone as a key technology, which makes its debut in the Ford brand lineup in Mustang Mach-E. Using Bluetooth, the vehicle can detect customers' smartphones as they approach, unlocking the Mach-E and allowing them to start driving without getting their phones out of their pockets or using a key fob. A backup code can be entered on the center touch screen to start and drive the vehicle in the event a phone battery dies.
To learn more or for any questions regarding placing a pre-order for the 2021 Mustang Mach-E, please contact Chino Hills Ford today or stop by! We are located in Chino, CA and have the pleasure of serving the San Bernardino and Riverside surrounding cities like Ontario, Eastvale, Chino Hills, Diamond Bar, Pomona, Corona and more!
Click for more details: TECH SPECS    |    INTERIOR FACT SHEET    |    GT FACT SHEET